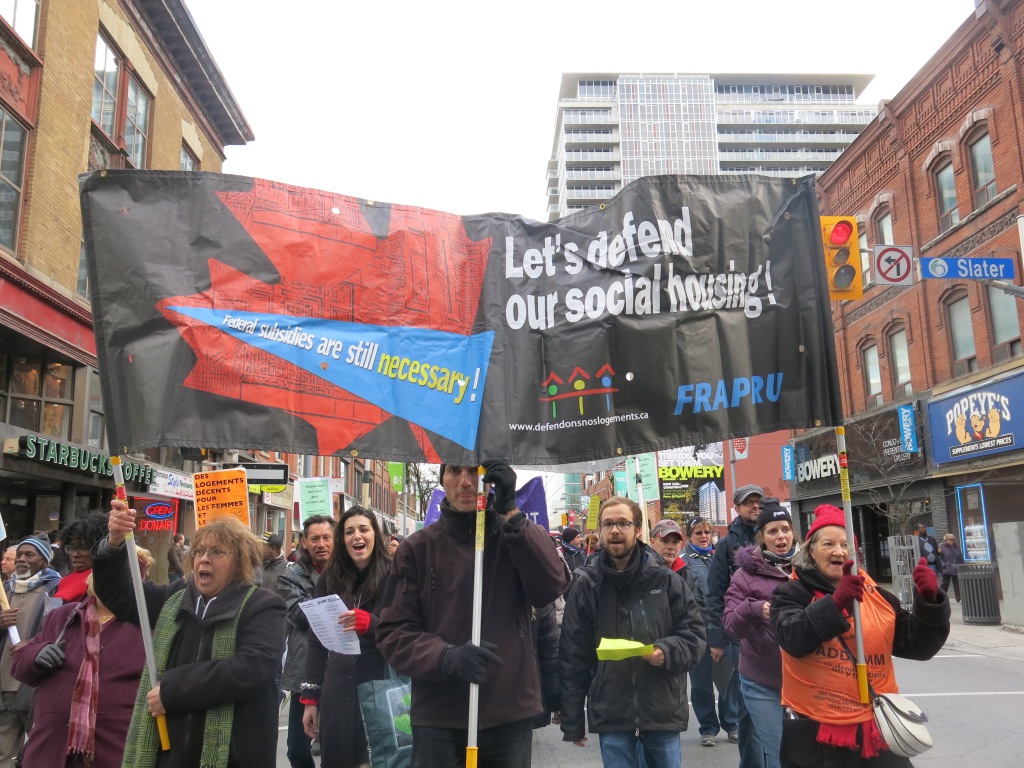 Ottawa, November 20th 2015 – More than 500 people walked to the new Primer Minister Justin Trudeau's office this afternoon, in Ottawa, on the occasion of the Canadian Housing Day. There, they builded houses out of electoral signs from the last federal campaign.
The Front d'action populaire en réaménagement urbain (FRAPRU) and the Réseau SOLIDARITÉ Itinérance Québec (RISQ), organizing jointly the event, want to make sure that the December 4th Throne speech and the first liberal budget to come will identify social housing and the fight against homelessness as government priorities.
Both networks demand immediate action from the liberal government. It should notably announce without delay that the long-term operating subsidies to existing social housing are maintained, as, across Canada, 25 100 coop, non profit and public housing units will lose these by the end of 2015, and 24 000 more units will be affected in 2016.
"During the electoral campaign, the Liberal Party of Canada has formally agreed to prioritize investing in affordable housing within its social infrastructure plan and renewing the subsidies to existing social housing. We need them to put their money where their mouth is", explains François Saillant, FRAPRU's coordinator. He specifies that according to the data from the Canada Mortgage and Housing Corporation (CMHC), more than 1,5 million Canadian households have core housing need. "A problem of such magnitude needs much more substantial investments than the 250 millions $ that Ottawa spends yearly until 2019". FRAPRU and RSIQ insist that federal investments also go to new social housing which would better guarantee their economic accessibility for the households that need them the most.
Both networks call for a significant increase to the sums allocated to the Homelessness Partnering Strategy (HPS) and a return to a global approach regarding this program's orientations. The Conservative government operated a shift in the HPS to the "Housing First" model that mainly steers people living chronic homelessness towards private market housing, without building new social housing. "These measures from the federal government jeopardize essential services provided to people living in or at risk of homelessness. The Liberal government must act quickly", states Jean-François Mary, RSIQ's coordinator. He indicates that the implementation of "Housing First" projects also almost destroyed the contributions to assets, installations and social housing.
— 30 —